Award-winning photographer Jacqueline Matisse is passionate about capturing the beauty of Ballarat the old-school way: on an analogue camera.
Jacqueline will help you see Ballarat's historical buildings, hidden laneways and open spaces through the lens of a 35mm camera. In this small group walking tour, you will learn how to use the camera settings to expertly capture the subject using light and shadow. Learn how to use focal points to frame your subjects and balance compositions.
With a focus on slowing down and observing the surroundings, you will have plenty of opportunities to ask questions and get advice so that you can become more confident in capturing images on film.
Jacqueline is an interdisciplinary artist and photographer. She has degrees in photography, fine art and education. This experience will provide every budding photographer with plenty of tips and techniques, along with the chance to explore Ballarat's charismatic CBD.
Please note that this experience requires participants to bring their own working Manual 35mm SLR Film Camera and spare camera batteries. A limited number of beautiful vintage 35mm cameras are available for hire at an extra cost; when selecting this option on booking, the total price includes a $50 refundable security deposit.
WHAT'S INCLUDED
One

Complementary Roll of 35mm Film.

Developing, Scanning and Postage. (for one roll only)
Guided three-hour photography tour using Ballarat's historical buildings, laneways and green spaces as backdrops.
Expert instruction with learning how to use your camera in manual mode.
Personalised attention in a small group of no more than 6.
Field Booklet featuring camera diagrams, film suppliers, processing labs and printing options.

WHAT TO BRING
A working 35mm Film Single Lens Reflex (SLR) Camera is highly recommended. A 35mm film camera that has full manual or semi-manual modes with aperture or shutter priority is fine. Automatic "point-and-shoot", compact cameras and smartphones are not suitable for this experience. No manual camera? No problem! We have a limited number of beautiful vintage fully manual cameras available for hire (see below).
Spare Camera Batteries.

Comfortable Shoes.

Extra rolls of film. (

Extra rolls can be purchased when booking)

A drink bottle and snacks. The tour finishes at a local café – food and drink at participant's own cost.
The tour will go ahead in inclement weather, so be sure to dress for the forecast conditions – pack your sunscreen/hat or coat/umbrella. In the event of severe weather, the tour may be adapted to visit indoor spaces, but we recommend planning to spend up to three hours outdoors.
Wear fully enclosed shoes that are comfortable for walking on cobblestones and other uneven surfaces.
HIRE CAMERAS
A limited number of beautiful vintage 35mm cameras are available to hire at an extra cost. When selecting this option on booking, the total workshop price will include a non-refundable $20 hire fee and a refundable $50 security deposit.

EXPERIENCE DURATION
180 minutes (3 hours)

EXPERIENCE LOCATION
This experience is a gentle walking workshop (covering 2-3km) that begins at Ballarat Town Hall and ends at a local café. The experience will visit up to a dozen points of architectural or cultural interest in central Ballarat – itineraries are subject to variation throughout the year. Joining instructions will be reconfirmed on booking.
ACCESSIBILITY
Participants who experience difficulties with fine motor skills will need to be supported by an assistant or carer. Please discuss your needs with the workshop host before booking.

Photo Gallery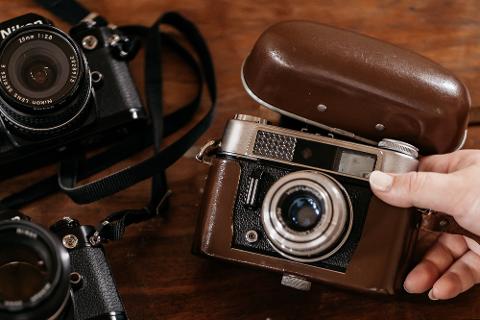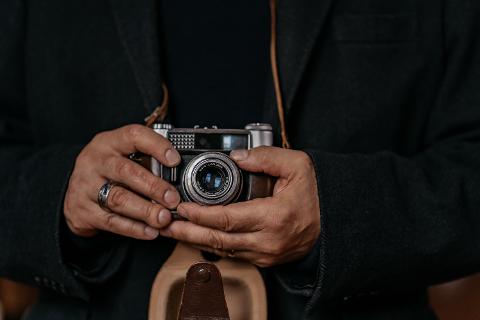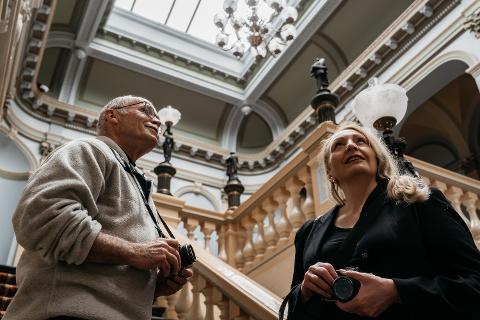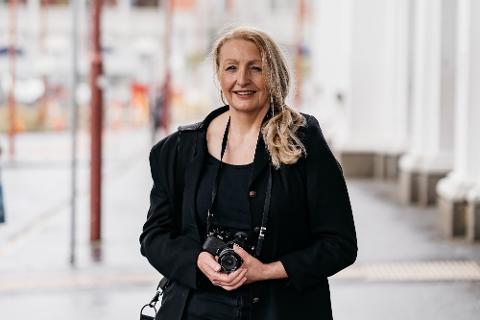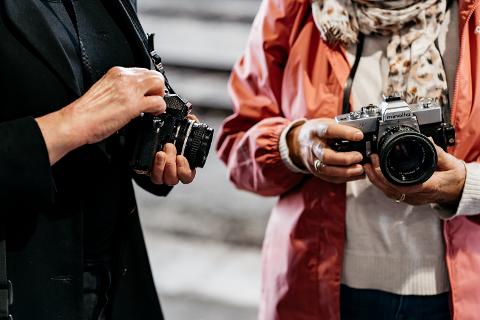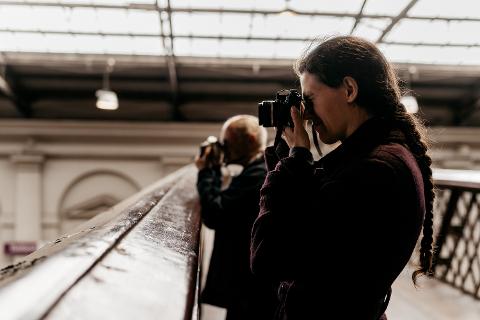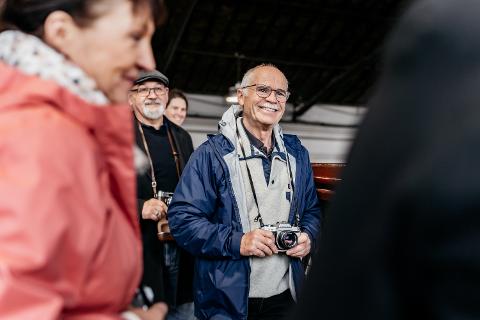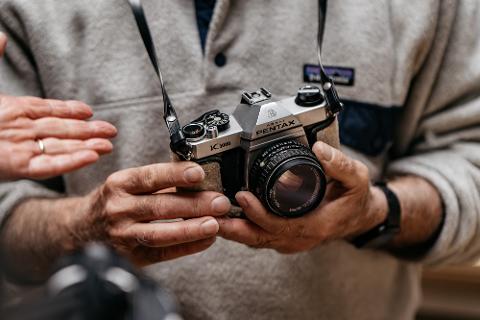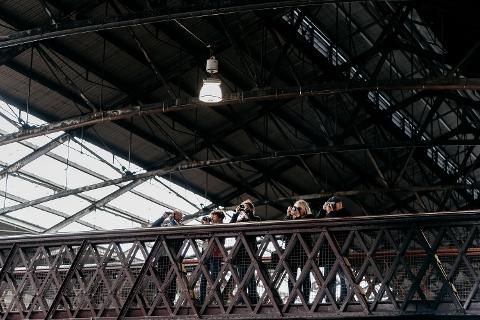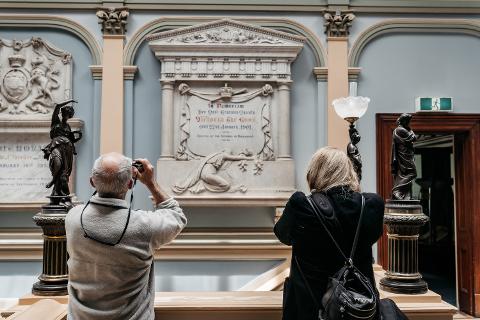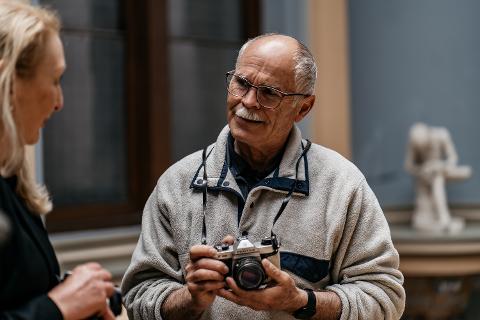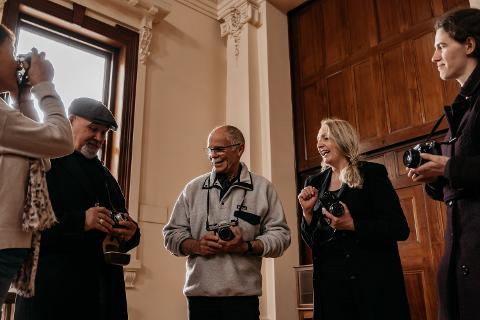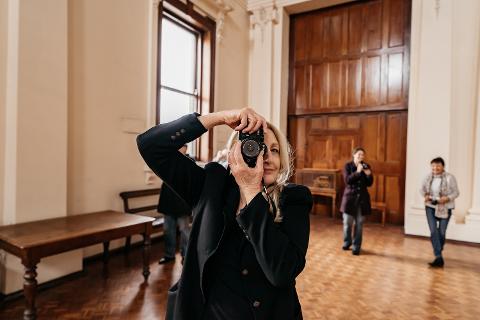 Terms and Conditions
Booking Terms and Conditions These terms and conditions form part of an agreement between Analogue Photography Tours ("we", "our" or "APT") and the guest(s) referred to in the booking form ("you", "your" or the "guest"). 1. How to book You may check availability and make a booking through the Rezdy Booking site. Full payment is required at time of booking. Once your booking has been made, you'll receive a booking confirmation email. By making a booking, you agree and accept our terms and conditions, including the terms and conditions set out in this document. If you are booking on behalf of another person, we rely on the authority of the person making the booking to act on behalf of any other participants on the booking and that person will bind all such participants to these terms and conditions. 2. Pricing The prices quoted on our website are the most current prices and are subject to a minimum number of 2 guests. The prices quoted cover (and only cover) the following: - Pick up at the meeting point as determined by APT. - Complementary roll of 35mm black and white film. - Hire of 35mm camera (extra cost at time of booking) - Instruction on basic camera operation and composition. - Guided and informative tour of Ballarat's historical CBD. - Developing, scanning and postage for one roll of 35mm, 24 exposure black and white film. - Qualified and experienced photographer for the duration of the walk. Any other cost is to be borne by you. 3. Payment All pricing is in Australian dollars. Full payment is required at time of booking. Bookings are not confirmed until your booking has been confirmed by the booking platform. Payment may be made by Credit Card, Australian Debit Cards, PayPal, Apple Pay and Alipay. We do not accept payment by any other method, including cheque or foreign debit cards. All payment fees are subject to change. The payment fees specified on our website are the most current. 4. Cancellation by Guest If you wish to cancel your booking, you must notify APT in writing as soon as possible. Once APT receives your notice, cancellation will take effect subject to the following: - the date of cancellation is the date that APT receives written notice of the cancellation; and if the cancellation is made: - less than 7 days from the scheduled tour date, you will be charged 20% of the full tour cost with the balance refunded to you; - between 48 hours and 24 hours prior to the scheduled tour date, you will be charged 50% of the full tour cost with the balance refunded to you; or - within 24 hours of the scheduled tour date, no refund is available. No refund will be paid if you: - fail to arrive at the pre-arranged meeting place at the time stipulated by APT. - you voluntarily leave your walk after it has commenced, including (without limitation) for reasons of bereavement, injury or illness; or - are directed by APT to leave or not commence your walk in accordance with these terms and conditions. APT reserves the right to not provide a refund if you arrive on the day of departure for any walk with inappropriate footwear and are unable to join the walk (please refer to condition 7). 5. Booking Amendment by Guest If you wish to change your booking, you must notify APT in writing as soon as possible. Once APT receives your notice, the change will take effect subject to the following: - one amendment can be made to your original booking, up to 7 days prior to the scheduled tour date, at no cost. Any subsequent change up to to 7 days prior to the date the scheduled tour date will incur a non-refundable fee of $20 per person. - for booking changes made between 7 days and 24 hours prior to the scheduled tour date, there is a $35 per person charge to change the scheduled tour date; and - we do not accept changes to bookings within 24 hours of departure. Changes to your walk departure date, or transfer of booking to a different walk experience may incur additional costs payable by you for any difference in pricing. We will do our best to change your booking to your preferred date, but it may not always be possible. 6. Cancellation by APT All of our walks take place outside. Ballarat in all its beauty and history is notorious for its changeable weather. We will under no circumstance knowingly place at risk the health and well-being of our guests and tour guides. In the case of a Force Majeure Event (as defined below), we may need to cancel a walk with very little notice. In some cases, this can occur after the walk has commenced. If a walk does not meet minimum numbers, APT reserves the right to cancel the tour however, every effort will be made to consolidate numbers so that the scheduled tour will successfully depart. Your flexibility in this regard would be appreciated. If we need to cancel a tour for any reason, we will provide you with the following options: - we can hold a credit towards an alternative booking departure date to be used within 24 months, including a guarantee that there will be no additional charges for the future walk; - provide a replacement walk at a later date convenient to both parties; or - with the exception of cancellations associated with a Force Majeure Event (as defined below), we will refund your booking payment for the cancelled walk. Where your walk is cancelled by APT, we will not be liable for any costs associated with travel to and from the designated walk departure pick up point. 7. Footwear On all Analogue Photography Tours, guests are required to wear comfortable, fully enclosed walking shoes. In wet weather, water-resistant footwear is recommended. Open toed shoes, sandals and thongs (flip flops) are not acceptable on any of the Analogue Photography Tours. These recommendations are made in the interests of your safety and giving you the best chance to have the most enjoyable experience possible. 8. Privacy Any personal information provided by the purchaser when making a booking is collected for the purposes of assisting with contacting customers if required. Visit Ballarat may also use personal information for direct marketing purposes in its promotion of Ballarat and related events. Where such use is made, the purchaser will be given prior opportunity to 'opt out' of receiving further direct marketing material. 9. Photography Please note that photography may be taken during your event, please advise if you do not wish to have your photo taken. 10. Definitions "Force Majeure Event" refers to an event(s) or circumstance(s) which includes, but is not limited to, acts of God, natural threats (such as bush fires, impassable snow and unsafe sea conditions), fire, earthquake, flood, windstorm or other extreme weather events civil commotion, riot, blockade or embargo, breakdown, union dispute, epidemic, pandemic, lack or failure of courses of supply, passage of any law, order, regulation, ordinance, proclamation, demand, requisition or requirement or any other act of any government authority, outside of the reasonable control of either parties whether or not foreseeable, which renders performance impossible.